August 27, 2008 at 5:56 pm | Posted in
health
|
Leave a comment
Tags:
abnlp
,
journey
,
talk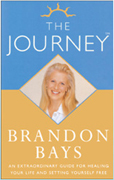 The Journey, pioneered by mind body healing expert Brandon Bays, provides a road-map to the unlimited healing potential that exists in each one of us. The Journey is a simple, yet powerful step-by-step process that gives us the tools to access our body's infinite wisdom and elicit its own healing power, getting to the root cause of any long-standing difficulty, fear or block. During this presentation Nathalie will give you a deeper insight into the Journey and guide you through a simple yet profound process.
Wednesday, 17 September, 7pm – 9pm
Sydney Forum (ABNLP)

NEW VENUE: Wesley Conference Center, 220 Pitt Street, Sydney

Bookings required: abnlp.org.au – go to Events & Programs – Members Forum Sydney
COME AND JOIN US!
You stand a chance to win one of Brandon's book The Journey, The Journey cards, a Journey DVD or a FREE iDetox Footbath!
August 27, 2008 at 4:27 pm | Posted in
communication
,
love/relationship/marriage
,
self development/motivation
|
2 Comments
Tags:
gift
,
gifts
,
love language
,
receiving
A gift is something that you can hold in your hand and say, "Look, he was thinking of me," or "She remembered me." You must be thinking of someone to give a gift. The gift itself is a symbol of that thought. It doesn't matter if it costs money.
Gifts need not to expensive, nor must they be given weekly. But for some individuals, their worth has nothing to do with monetary value and everything to do with love.
Within every language, there are many dialects. Here below you will find just a few but in the end you need to understand your spouse's dialect.
Purchased Gifts:
Anything you can imagine, how much it costs is less important than the thought that goes with it. If a millionaire gives only one-dollar gifts regularly, the spouse may question whether that is an expression of love, but when family finances are limited, a one-dollar gift may speak a million dollars worth of love.
Gifts you find:
For example a flower from the yard or side of the road, a shell from the beach, a special stick etc. Anything that you add meaning to.
The Gift of Self:
There is an intangible gift that sometimes speaks more loudly than a gift that can be held in one's hand. This is the gift of self or the gift of presence. Being there when your spouse needs you speaks loudly to the one whose primary love language is receiving gifts.
If your spouse's love language is RECEIVING GIFTS: Continue Reading Love Language Part 3 – Receiving Gifts…
Blog at WordPress.com.
Entries and comments feeds.